4.0 Menu Functions
The menu is found on the upper-left corner of the screen. The menu contains functions and tools that can help you manage jobs and staff.
1.  Tap the menu icon.
2.  Listed here are the functions under the menu.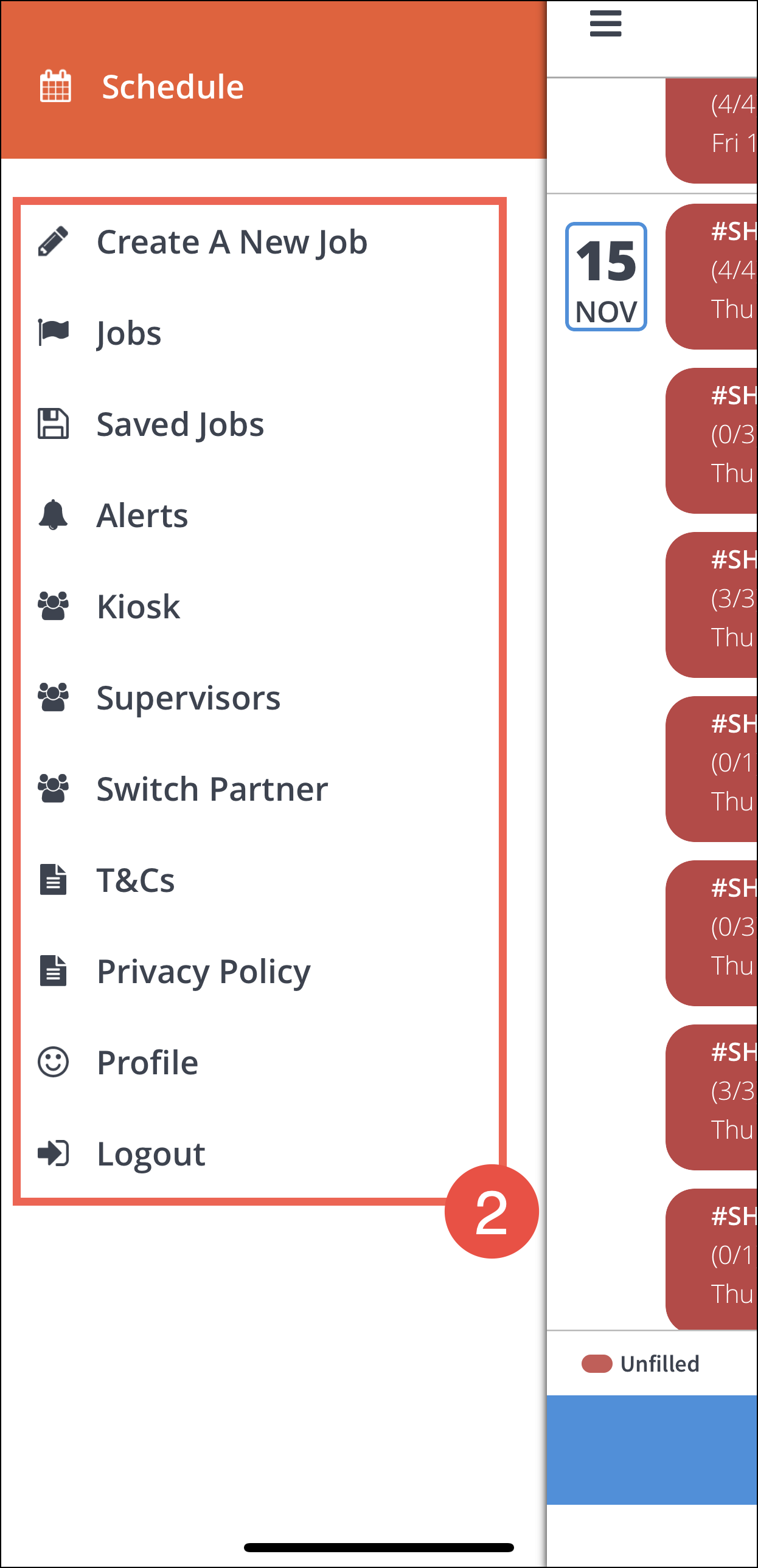 Create a New Job
Jobs
Tap on Jobs to see all the on-going and upcoming jobs under your account. This is also the default landing page of the app when you log-in.


Saved Jobs
These are the Jobs which you have saved but unbooked.


Alerts
Alerts are notifications generated by the app to remind you of important information about your jobs. You will receive alerts when a job has started or if a staff has been assigned to a job, and so much more.
1.   Tap Alerts.
2.   All your alerts will be displayed on the next page.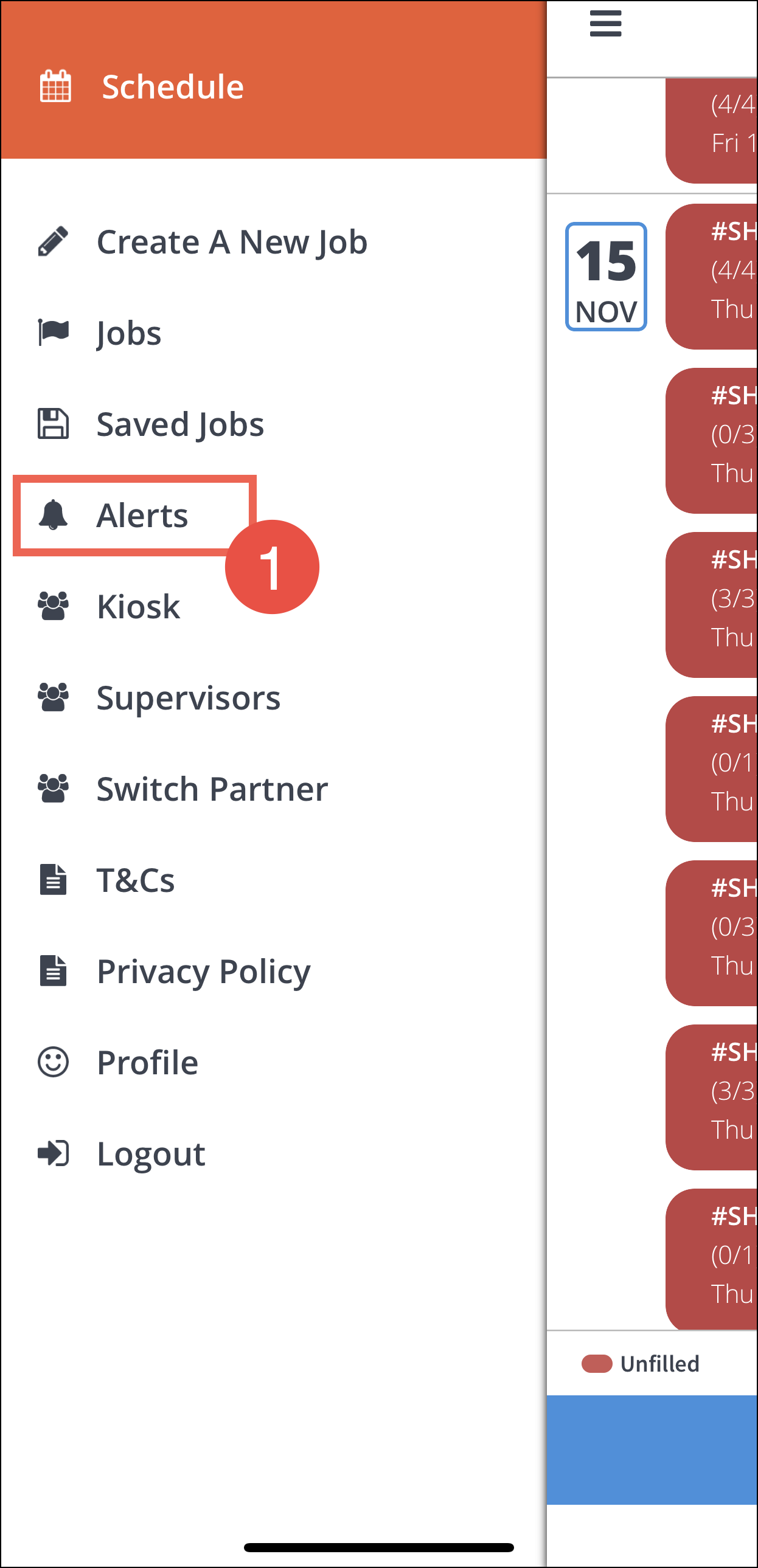 Your Profile
Your CrewGo app profile contains information about your account and other details. It is your identity when using the app.
1.   To view your Profile, tap Profile in the menu.
2.   Your profile will be displayed on the next page.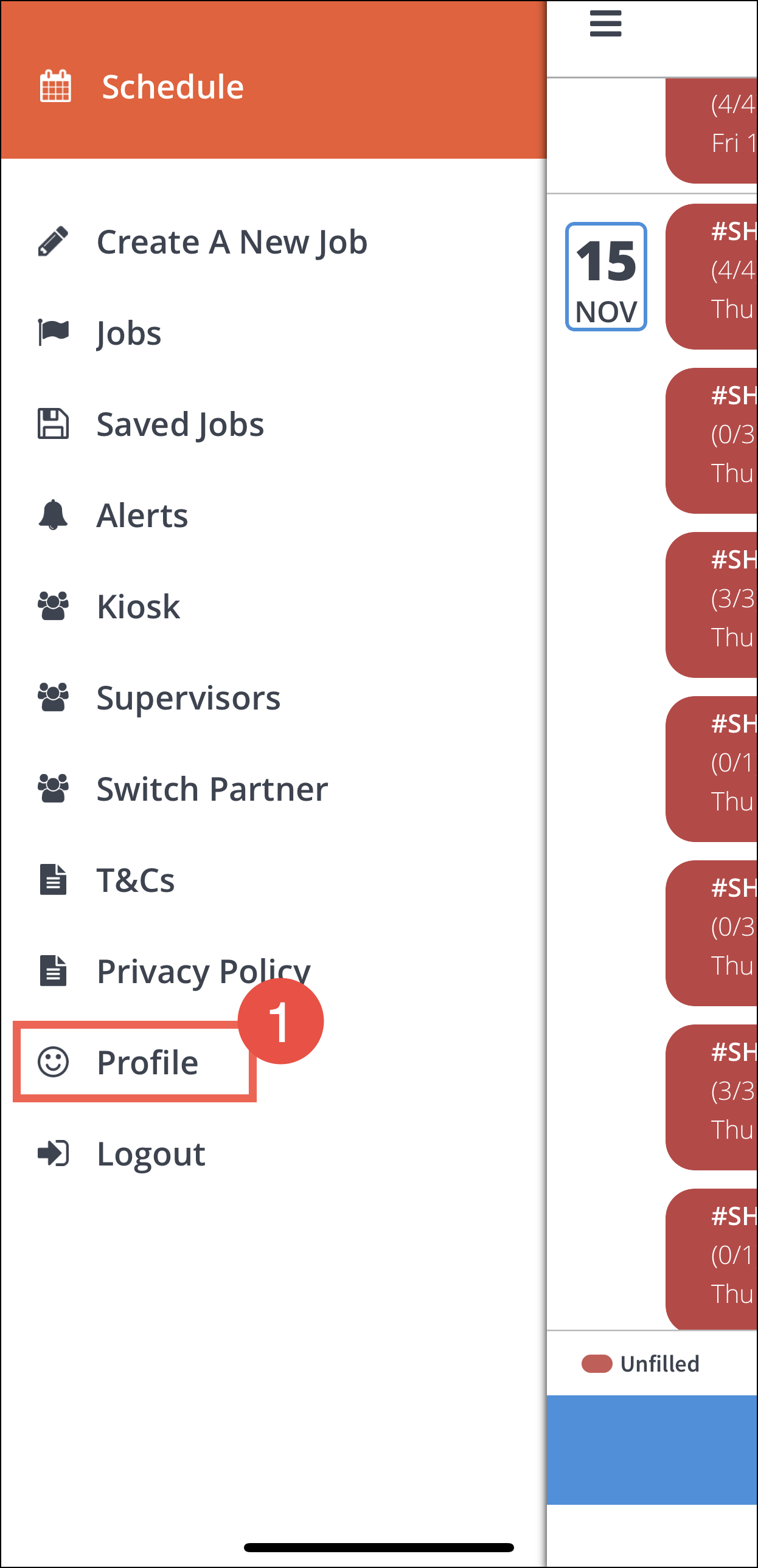 Changing the Password of Your Account
1.   Tap on Change Password.
2.   Enter your Current Password then nominate a New Password. Then retype your new password to confirm it.
3.   Tap Change Password.


Editing Your Profile
1.   Tap on the edit icon.
2.   You can edit the following details of your Profile:
Cover Photo
Profile Photo
Address
Phone
Default Break
About Me
You will not be able to change your Email Address in the Booking App.
Tap Update Profile once finished.
NOTE: You cannot change your e-mail address.


Supervisors
1.   Tap Supervisors.
2.   The app will display all supervisors in your CrewGo App account.
To add a supervisor, see Assigning A Supervisor for more information.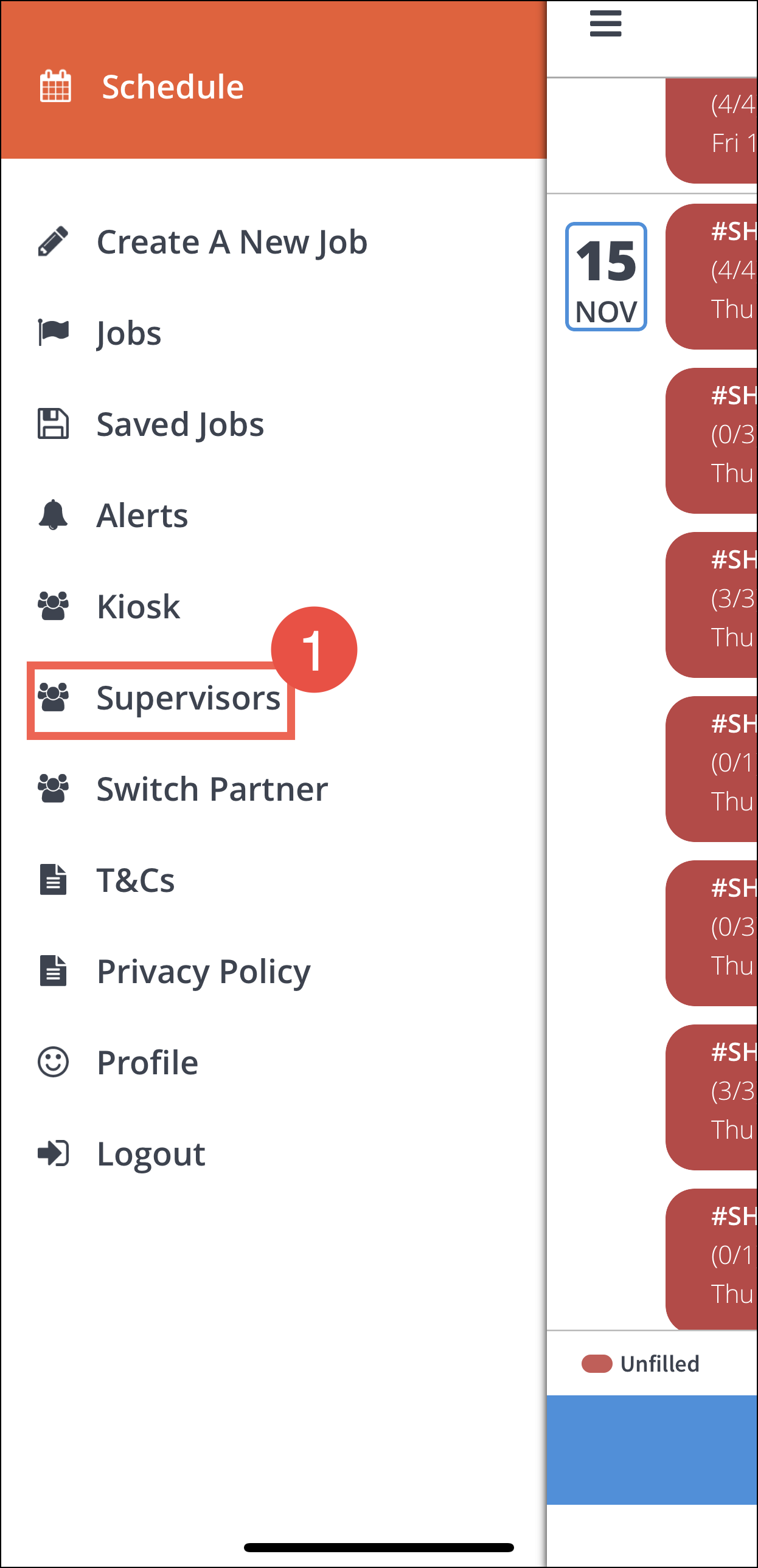 Switch Partner
If you have two or more partners in your account, you can tap on the name of the partners to switch your current one.

Terms and Conditions
Tap on this function to view and read the terms and conditions of using the CrewGo app.

Privacy Policy
Tap on this function to view and read the privacy policy of using the CrewGo app.
Kiosk
Staff can use the Kiosk if they can't check-in to their shift using the app on their device.
1.   Tap Kiosk.
2.   Tap on the job location.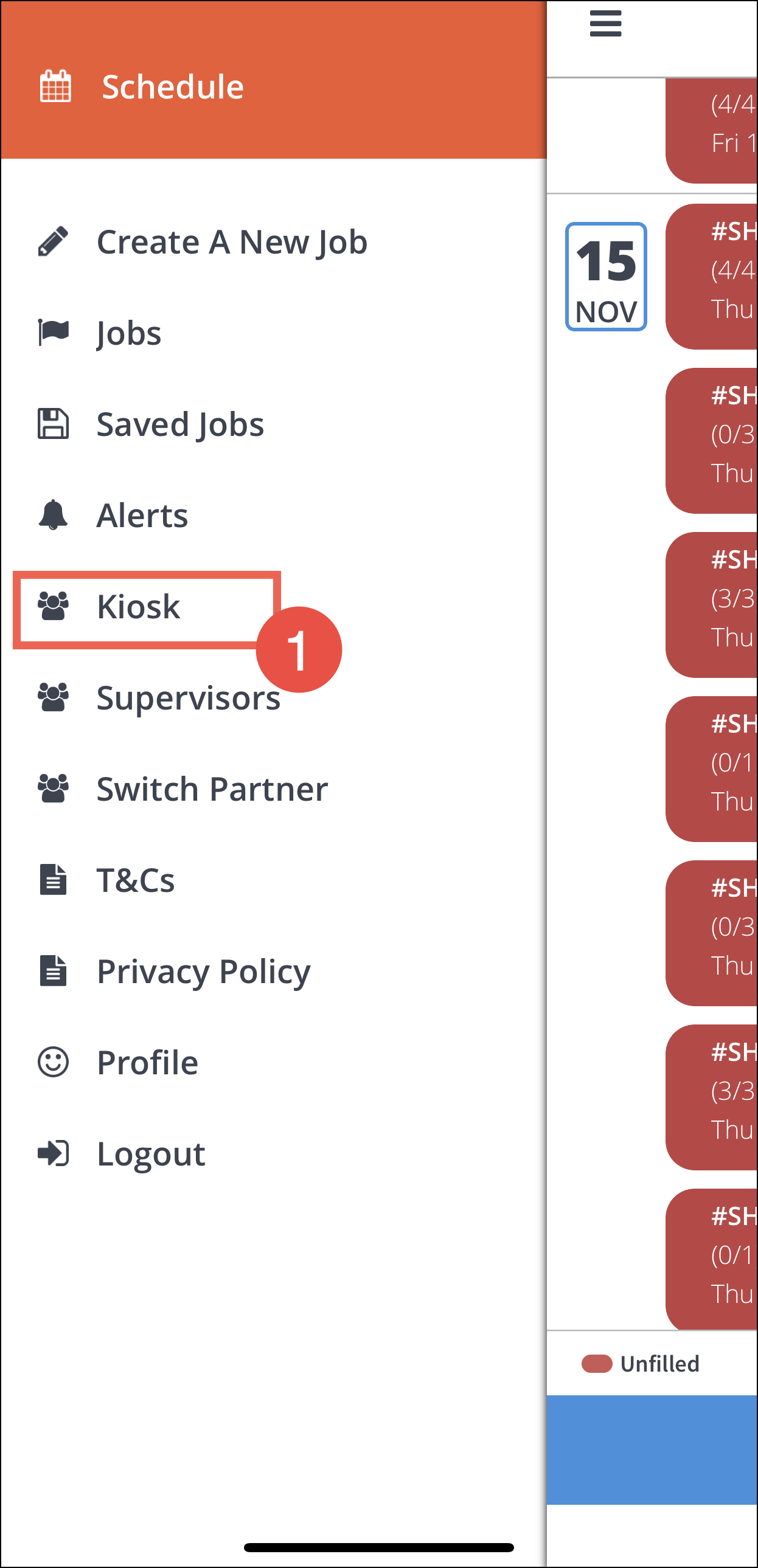 3.   Tap on the staff who will need to check-in using the Kiosk.
4.   Staff will need to enter his PIN to check-in to his job.
5.   Tap OK.
6.  The app will be redirected to the Kiosk page.
7.  To exit the Kiosk page, tap the x icon on the upper right corner of the screen.
8.  Supervisor or booking person will need to enter their PIN to exit Kiosk.


Changing or Updating Your KIOSK PIN
Follow these steps if you want to update/change your KIOSK PIN.
1.  Go to your Profile and click Reset Kiosk Pin.
2.  The Pin Reset window will appear. Enter your password and your new PIN and click Update.
Log-out
Tap on this function to log-out from the app.